Noel & Cecibon, the organizers of the annual Haitian Compas Festival announced today; The 24th edition of the Haitian Compas Festival, will be held at Miramar Regional Park Amphitheater, for the first time. The park which is located at; 16801 Miramar Pkwy, Miramar, FL 33027, is an open-air venue which sit 5,000 people ((3,000 covered canopy; 2,000 grass area) Compas Festival is known for bringing well over 10,000 people from all over the world which is why the organizers have decided to extend the festival to two days as well, an order to accommodate its supporters.
This year's festival Lineup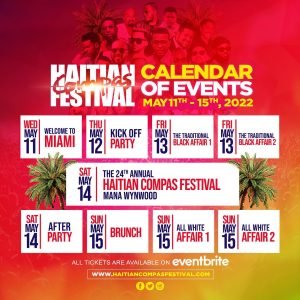 Day #1: Saturday, May 14th, T-Vice, Ekip, Klass, Vayb, Djakout#1, Nu look, Oswald, Kennyway, Misty Jean, Darline Desca, DroxYani, Vanessa Desire, Shassy, Danola, DJ FMA, Zikos, DJ Bullet, DJ Heavy, Nicky Mixx, Master Brain.
Day #2 Saturday, May 15th: Harmonik, Kai, Enposib, Zenglen, Wil Pierre, MechansT, Vaglavi, Teamadada, Pierre Jean, Roody RoodBoy, DJ Heavy, DJ Weecked, Nicky Mixx, DJ Lens, Ti Ansyto, Andybeatz, and Black Mayco
The Haitian Compas Festival has become a staple in the Haitian music industry since its inception in the year 1999. Haitian Compas Festival is known for bringing people from all over the world together in honor of, Haitian Flag Day. The annual event is a celebration of Haitian culture, fine art, delicious Haitian cuisine, and of course, great music by some of Haitian music best artists.
Tickets for the festival are available online on TicketMaster; kick-off and afterparties tickets are accessible on Eventbrite. Feel free to reach out at +13059458814 for further details and information.